Branding Strategy: for your potential on the Japanese EC market
Mar 23, 10:00
-
Mar 27, 11:00
(UTC+07:00) Asia/Bangkok
Free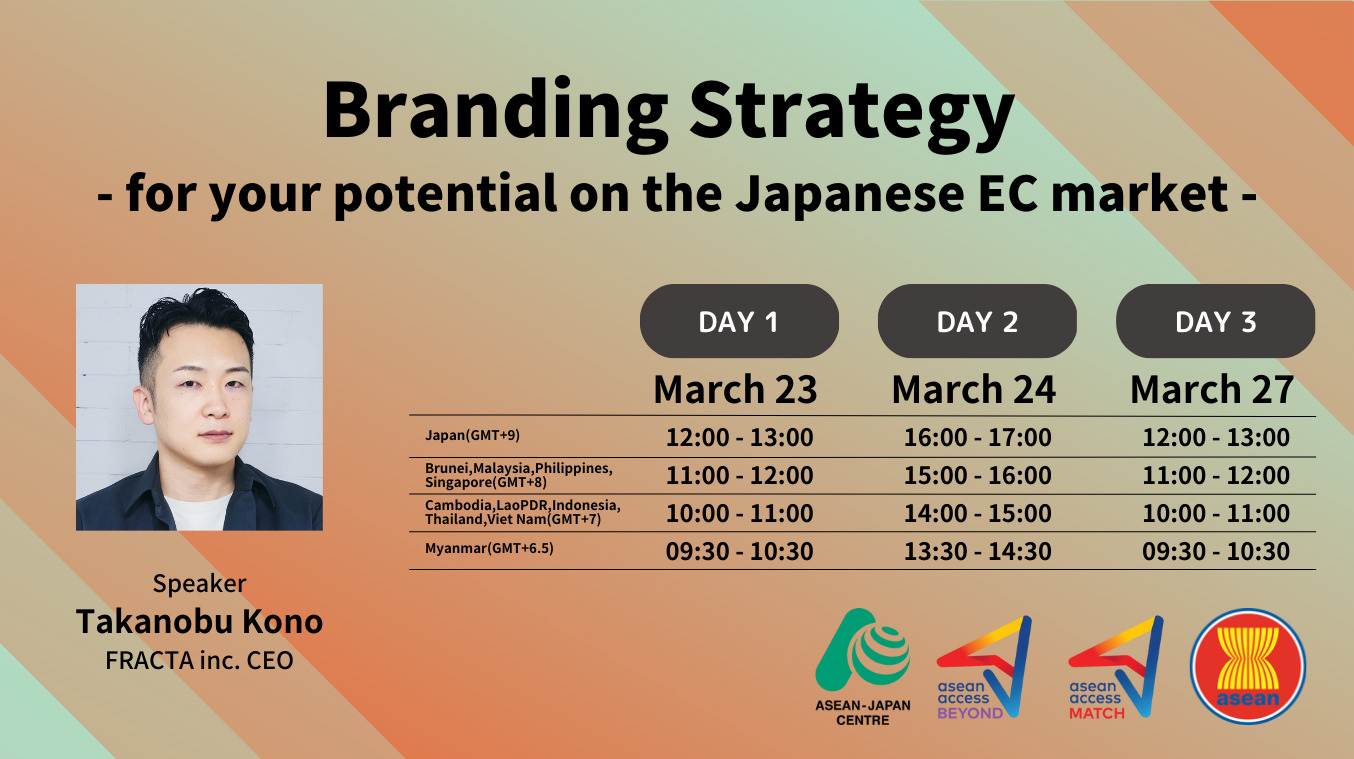 With the initiative "ASEAN Digital Trade Promotion" the ASEAN-Japan centre is striving to increase ASEAN exports to Japan through digital trade platforms, with the goal of helping businesses understand how to enter the Japanese e-commerce market, including navigating, and getting right, the incredibly relevant topic of branding. You might know the best strategies for in your country, but what about elsewhere? One size definitely does not fit all. 
By joining the 3-session "Branding Strategy: for your potential on the Japanese EC market" series, you will hear first hand from a Japanese branding and e-commerce expert.
Date of sessions* (GMT +7 / Bangkok time):
March 23 (Thu): 10:00 – 11:00

March 24 (Fri): 14:00 – 15:00  

March 27 (Mon): 10:00 – 11:00
*Once you register this event, this signs you up for all all three sessions.
Details of sessions:
23 March 

Understanding the Japanese Market

What is branding? The session will explain the characteristics of the Japanese market as well as branding and EC for Japanese companies. The session will also provide participants with a deeper understanding of the current Japanese market, as well as branding.

Please register by 5pm on 22 March.

24 March 

Effective channel communication for entering the Japanese market


The second session will discuss effective channels and communication when actually entering the Japanese e-commerce market, and will also explain the use of in-house Japanese e-commerce, D2C, Shopify, etc. with actual examples.

Please register by 9am on 24 March.

27 March 

Practical: Brand Review Session

Based on the content of the previous two programs, the CEO of FRACTA will provide feedback to brands on the spot on how they will be able to actually enter the Japanese EC market and sell their products. 

Please register by 8am on 27 March.
Speaker
NB!
Your information will be used only for the management of this event and the project "ASEAN Digital Trade Promotion".

Please make note of the registration deadlines. 

Zoom link to join each webinar will be sent one day before the event (22 March) or on the morning of the event (24 / 27 March).

Once you register this event, we regard you will participate all three sessions.

Please note that the matchmaking function is disabled for this event and 1-2-1 meetings cannot be requested.
Contact: