Next Steps: Join the EC market in Japan
Dec 22, 15:00
-
Dec 22, 16:00
(UTC+07:00) Asia/Bangkok
Free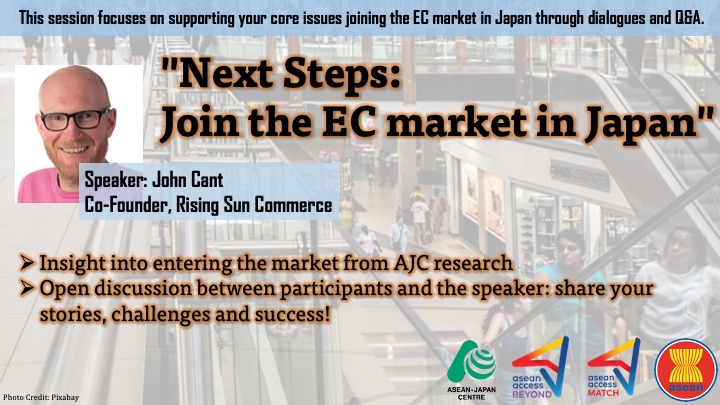 Background
Earlier this year, ASEAN-Japan Centre launched the project "ASEAN Digital Trade Promotion" to promote new and existing priority and strategic goods and services to support increasing ASEAN exports through digital trade (or e-commerce/EC) platforms.
Through this project, a series of online workshops and networking session are organised to demonstrate how the Japanese EC Platforms can be utilised, together with ASEAN Access, and on 22 December 15.00 – 16.00 (Bangkok time / GMT +7), we invite all businesses interested in selling online in Japan to join the follow-up session to the first two webinars (even if you didn't participate in these): "Next Steps: Join the EC market in Japan". 
What will be discussed?
● Through open dialogue with participants, the event will focus on addressing core issues and problems that businesses face when trying to join EC the market in Japan, particularly Amazon Japan.
● We will also present the results of a survey from the first webinar "selling your products on Amazon Japan", as well as the results of ASEAN-Japan Centre's own research on "ASEAN products on Japanese EC sites".
Programme:
■ 20min: Results of the survey and research on ASEAN products on Japanese EC markets
 Speaker: Michihiro Tanabe, Programme Manager, ASEAN-Japan Centre
■ 20min: Follow-up session and discussion on what are the next steps to take to enter the Japanese e-commerce     market and especially Amazon Japan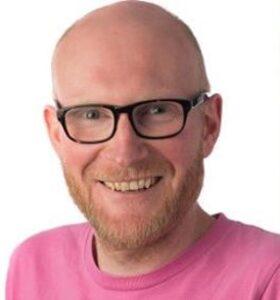 Speaker: John Cant, Co-Founder, Rising Sun Commerce
■ 20min: Open dialogue and Q&A session
Note:
● Your information will be used only for the management of this event and the project "ASEAN Digital Trade Promotion".
● The Zoom link to join the webinar will be sent one day before the event, on 21 December. 
● Please note that the matchmaking function is disabled for this event and 1-2-1 meetings cannot be requested.
Contact: 
For general enquiries about MATCH please contact us via match@aseanaccess.com
For event specific questions, please contact Michihiro TANABE, Programme Manager, ASEAN-Japan Centre: mtanabe@asean.or.jp